Brothers In Arms Blackberry & Poppy Seed Royal Dark Rum 50cl
BIABPSRR50CL
UK National Delivery
Description
Sweet Little Drinks are extremely proud to present a first in the Rum world, a Blackberry and Poppy Seed Dark Royal Rum, never before has Poppy Seeds been infused to a spirit. The result is a beautifully balanced experience lead by Britain's indigenous blackberry fruit accompanied by the unique and unmistakable flavour of the poppy seed.
Each bottle has a porcelain poppy flower on each bottle neck. This is the perfect and quintessential example of a British Dark Rum, crafted by hand from start to finish.
In association with On Course Foundation we are donating £2 from ever bottle produced to the fantastic veterans charity.
The first batch is dedicated to
Kushal Limbu, Kushal joined the Army in 2002 serving with the 2nd Battalion Royal Gurkha Rifles. Injured in Afghanistan in 2008 he lost both legs below the knee in an explosion.
During a year in rehab he heard about golf and On Course Foundation; he had never played or watched golf! Golf has become a part of his life and he now has a handicap of 11, playing socially and competitively with former colleagues and other veterans.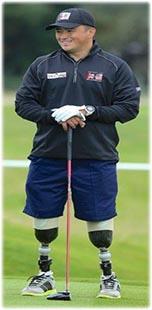 On Course Foundation supports wounded, injured and sick veterans in their recovery and wellbeing through golf whilst sourcing employment opportunities within the industry for their long-term future.